Built in 1819 the Theatre Royal Bury St Edmunds is the last surviving example of a working Regency playhouse in the country. As a National Trust property there are a variety of ways to explore behind-the-scenes and find out more about its rich and vibrant history.
Tours
Theatre Royal was designed by renowned architect William Wilkins – also famous for designing the National Gallery and University College London. With many of its original features still intact it is the last remaining Regency playhouse in the country, and one of the most beautiful, intimate and historic theatres in the world.
Join one of our Guided Tours and discover why Theatre Royal is one of the most significant theatre buildings in the country. Our tours provide a fascinating and lively insight to the theatre's history. Our Guided Tours last approximately 75 minutes. Guided Tours operate from February to November on Wednesdays, Thursdays and Saturdays at 11am, subject to availability. If you have requests outside of these times do call us to discuss your requirements.
Guided Tours: £7.50 per person | National Trust Members: Free.
Close Encounters – Live Interactive Tours
Close Encounters offers visitors the opportunity to meet and interact with some of the fascinating characters from the theatre's past. Whereas our Heritage Tours take visitors on a guided chronological tour through the history of the theatre, Close Encounters brings this history to life in an engaging and entertaining way, allowing visitors to step back in time and discover many of the personalities who have made their mark here over the past 200 years.
Group Tours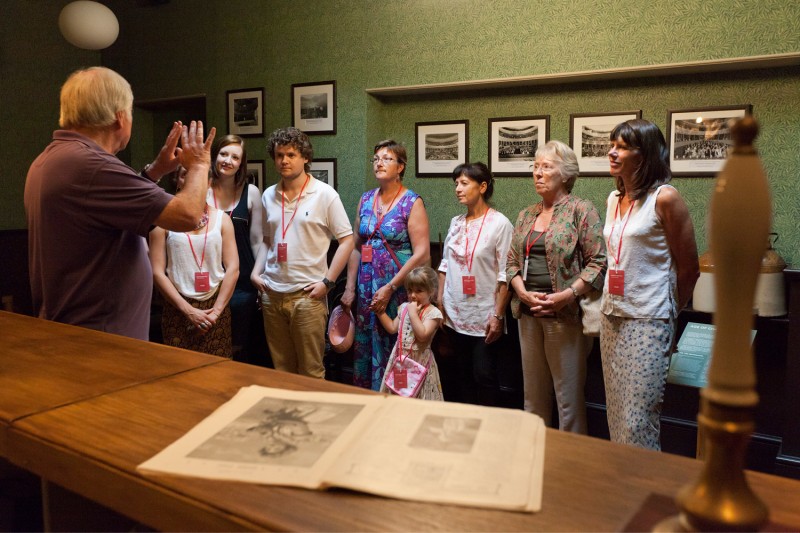 Whether you are combining your Group Tour with a performance at the theatre, a dramatic workshop, or going out and about to discover the fascinating history of Bury St Edmunds, we have lots on offer for groups to enjoy!
Groups of 10 or more: £6.50 per person | National Trust Members: Free.
We can offer tea, coffee and cake at £5.00 per person, please ask for more details.
To enquire or make bookings please get in touch with us at grouptours@theatreroyal.org or call 01284 829956. Tickets for Guided Tours can also be purchased online. 
Book Your Group Tickets To Watch a Performance
Visit our what's on pages for full details of matinees and concerts. For any enquiries or bookings get in touch with our Group and Schools Coordinator, lauren@theatreroyal.org or call 01284 829947.
Groups of 8 or more get £1 off full price tickets on selected performances.
Heritage Open Days
Click here to check dates and book to come along to the next Heritage Open Day.
Our History
Read more about the theatre's history on our History page and discover why a tour of Theatre Royal Bury St Edmunds is worth a visit.
For more information on how to get to Theatre Royal and where to park please click here.